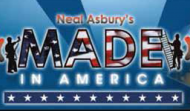 Host Neal Asbury opened his nationally syndicated "Neal Asbury's Made in America" show on Radio America (now on 70 stations) by focusing on new media reports that Bernie Sanders' proposals will cost the country $18 trillion.
"I went to high school in New Jersey and I can't believe how many of my former classmates are buying into Bernie Sanders' socialist ideas and are Sanders supporters," remarked Neal.
The first guest on Made in America was Ross Eisenberg from the National Association of ...
Finish Reading →