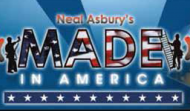 Host Neal Asbury opened his nationally syndicated "Neal Asbury's Made in America" show on Radio America (aired by some 70 affiliates), by expressing his concern that the noise emanating from the election process is distracting Americans from the issues that really need to be discussed – not insults about families and wives.
The first guest on Made America was Congressman Marsha Blackburn, the U.S. Representative for the 7th District of Tennessee, who warned that opening up the country to Syrian immigrants is putting the nation's security and economy at risk.
"Americans are now being told by terror deniers that climate change and 'openness' to Syrian refugees will stop the ISIS death march. How delusional.
The president has not listened to his own Department of Homeland Security secretary who said last fall that the federal government won't "know a whole lot" about the refugees being brought to American soil. He also hasn't listened to NATO commander Philip Breedlove who told Congress that ISIS "is spreading like cancer" among the refugees," contended Congressman Blackburn.
Co-host Dr. Rich Roffman added the disconcerting fact that more immigrants from the Mideast are coming to America than from Mexico.
Congressman Blackburn echoed what many have said that it is far more advantageous and cheaper and safer to work with Mideast officials to keep potential refugees from leaving their native country and staying where they are.
"The Syrian government does not have the infrastructure to adequately vet the refugees leaving their country. We have no idea who these people are. This makes it far easier for terrorist groups to recruit them.  Why are we just seeing young men and not persecuted Christians?" asked Congressman Blackburn.
The conversation returned to the inability for Republicans to address key issues.
"Voters are confused. All they see is chaos in the Party. Meanwhile, the Democrats seem to be able to articulate issues.  We're turning people off," proposed Neal.
Dr. Roffman agreed, noting that "the issues that the GOP is fighting about are insane. We have some serious issues to address; including the fact that we've lost 25,000 manufacturing jobs and the only growth in jobs we see are in low paying service jobs.  And we have 25 million foreign workers taking jobs from Americans. Meanwhile Bernie Sanders wants to give everything away.  Real soon, we're going to owe more money than we are bringing in. Then we're really going to be in trouble."
The next guest on Made in America was Trey Kovacs from the Competitive Enterprise Institute, who returned to the show to sound the alarm over new overtime exemptions that will pose a threat to workers and small businesses.
"By statute, Congress delegated to the Secretary of Labor "the authority to define and delimit the terms of the [overtime] exemptions." But that doesn't mean it is good policy to dramatically modify the exemptions. But on June 30, 2015, the Department of Labor submitted a notice of proposed rulemaking to significantly modify the exemptions in the Fair Labor Standards Act's overtime rules. Most notably, the proposed rule greatly increases the minimum salary threshold for exempt workers," noted Kovacs.
Kovacs adds that there is no doubt that the DOL rule change will increase the number of employees eligible for overtime (estimated at 5 million workers), but unlike increases in the minimum wage, the government cannot force employers to pay employees more via the overtime rule, because employers can take steps to keep labor costs at relatively the same level, either by degrading salaried employees to hourly, hiring fewer employees, reducing base pay, or cutting back hours.
"These regulations always carry unintended consequences, like the minimum wage, which is going to hurt employees, not help them," proposed Dr. Roffman.
Ultimately, Kovacs predicted that it will kill flexibility for salaried employees, who once converted to hourly wages, will lose pay if they need to run out to pick up a sick child from school.
The final guest on Made in American was Paul Driessen, from the Committee for a Constructive Tomorrow, who maintained that climate change alarmists, instead of debating their critics, or marshaling a more persuasive, evidence-based case that we really do face a man-made climate catastrophe, have ramped up their shrill rhetoric, imposed more anti-hydrocarbon edicts by executive fiat and unratified treaty – and launched RICO attacks on their critics.
"At the center of this crusade is that some legislators are accusing companies like ExxonMobil of "committing fraud," by "knowingly deceiving" the public about the threat of man-made carbon dioxide emissions and climate change. As punishment, companies that don't agree with the government's take on global warming, could be punished to the fullest extent of the law," under the Racketeer Influenced and Corrupt Organizations (RICO) Act. It is incredible that a law intended for the Mafia or organized crime is being considered by U.S. Attorney General Loretta Lynch against legal corporations to be "referred to the FBI," according to Driessen.
Dr. Roffman segued to a discussion about job losses resulting at the LA Port Authority where robots are replacing well-paid crane operators.
"And we can't forget the administration's good friend Elon Musk, who is taking deposits from 300,000 people for his newly introduced $35,000 Model 3 Tesla. Trouble is, model components are still on the drawing board and won't be available until late 2017 or early 2018. I don't think any other car manufacturer would be allowed to keep money for more than a year without giving car buyers any interest on their deposits," suggested Dr. Roffman.
Then Dr. Roffman returned to his review of Hillary Clinton's cronyism. This time, it's Hillary assembling a group of very wealthy donors to reach out to Democrat delegates with gifts and money to bring them into Hillary's corner. Bought and paid for!
"That is cronyism at its worst," concluded Dr. Roffman.
Each week Neal Asbury' Made in America provides Neal's insights into the week's top news stories and their impact on the worlds of entrepreneurship, small business ownership and the overall economy. Neal's analysis, together with co-host Dr. Richard Roffman, a veteran 30-year publisher with extensive domestic and international experience, takes a non-biased approach based on real life experience in business as an American manufacturer and exporter. Made in America airs nationally each Saturday from 7-8:00 PM on Radio America.  Link to Made in America at http://www.nealasburysmadeinamerica.com.