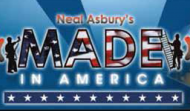 Host Neal Asbury opened his nationally syndicated "Neal Asbury's Made in America" show on Radio America (now on 72 stations) by characterizing the passage of the net neutrality regulation as another grab by the federal government to consolidate its power—this time by taking control of the Internet.
Co-host Dr. Rich Roffman agreed, comparing it to Obamacare.  "Congress passes a piece of legislation but most people voting on it haven't the slightest idea of what's actually in it."
The first guest on Made ...
Finish Reading →