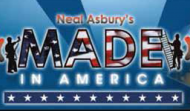 Host Neal Asbury opened his nationally syndicated "Neal Asbury's Made in America" show on Radio America (now on 72 stations) with the expected news that large hikes in Obamacare coverage are occurring across the country, making it harder for people to afford coverage.
In fact, co-host Dr. Rich Roffman noted that some Obama exchanges are going bankrupt.
The first guest on Made in America was Oklahoma Senator, Tom Coburn, who is greatly troubled by the lack of transparency surrounding the Trans Pacific ...
Finish Reading →