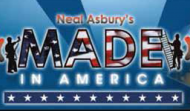 Host Neal Asbury opened his nationally syndicated "Neal Asbury's Made in America" show on Radio America, now heard by 71 stations nationwide, by taking CNBC to task for a very poorly produced Republican debate that seemed to squelch any real debate on the issues to which Americans are most interested.
Co-host Dr. Rich Roffman agreed, noting that highly paid moderators wanted to follow their NBC bosses agenda with a provocative program, and failed to offer any real engagement.
The first guest on ...
Finish Reading →