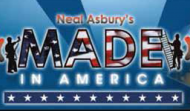 Host Neal Asbury opened his nationally syndicated "Neal Asbury's Made in America" show on Radio America (now on 72 stations) with the astounding news that President Obama characterized climate change as the biggest security threat to the country. Neal suggested that it's a lack of good paying jobs that is the biggest security threat to America.
"The President's remarks are another part of the ideology of the lunatic left," remarked Neal.
The first guest on Made in America was Pennsylvania Congressman, Mike ...
Finish Reading →