Biographical Profile of Free Enterprise Champion Neal Asbury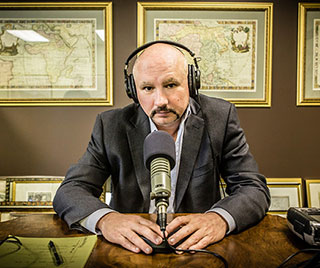 When it comes to advocating on behalf of entrepreneurship and free enterprise, there is no one more passionate about these topics than Neal Asbury, chief executive of The Legacy Companies.  It's no coincidence that he was the 2008 recipient of the coveted United States National Champion Exporter of the Year Award.  He has published over 200 articles on global trade issues, and writes a weekly column for Newsmax.  He has been quoted in The New York Times, Wall Street Journal, LeMonde, and frequently appears on cable television nationally and internationally, often seen on Fox News, CNBC, MSNBC, BBC and RT Network.
Each week Neal hosts the nationally syndicated talk radio show "Neal Asbury's Made In America", produced by Radio America. This has become a nationally respected forum for reinvigorating the entrepreneurial spirit that has made U.S. businesses the envy of the world in their pursuit of the "American Dream."  "Made In America" features leading political and industry experts and is carried by more than 40 affiliates from coast-to-coast.
His book "Conscientious Equity: An American Entrepreneurs Solutions to the World's Greatest Problems," published by Palgrave & MacMillan, has quickly become a respected guidebook to help American manufacturers engage with the world on trade, fighting corruption, environmental issues and preserving human dignity.
Mr. Asbury's blog www.conscientiousequity.com is a favorite on-line destination for visitors who share his passion for small business entrepreneurship and the benefits of expanding the U.S. role in global commerce. His advocacy has taken him to address the United Nations at the Commission of Trade and Development, as well as frequent speaking engagements at universities, government events and trade associations.
Mr. Asbury has been an entrepreneur involved in global business since graduating from Rowan State University in New Jersey in 1979 with a Bachelor of Arts degree.  Shortly afterwards he was recruited by Inchcape PLC and moved to Asia to represent the interests of a number of U.S. manufacturers throughout the region.
The Legacy Companies is a diversified group of businesses either founded by or acquired by Mr. Asbury that includes Greenfield World Trade, a global trading company selling and servicing American manufactured products in over 130 countries.  Leading brands represented by The Legacy Companies include: Blakeslee, a leading world manufacturer of commercial food preparation and ware washing equipment; Excalibur, the world's largest manufacturer of food dehydrators; General, a manufacturer of food preparation equipment; Zeroll, a manufacturer of high end kitchen gadgets; Omega, a leading manufacturer of electrical kitchen appliances and Maxximum a leading brand of commercial refrigeration and ice machines.
No stranger to Capitol Hill, Mr. Asbury has received the President's E-Star Export Award and the Export Achievement Award from the U.S. Department of Commerce. He is Chairman and founding faculty member of Export University (a collaboration between the District Export Council and the U.S. Department of Commerce). He is a member of the Florida District Export Council.
Neal Asbury resides in Weston, Florida with his wife, Elizabeth and two daughters, Anjelica and Alyssa.