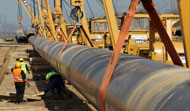 Our nation's railroad system has always been a source of pride. It helped America expand from coast to coast, and by 1860, nearly every major city was linked by rail. In addition, most farms were within five miles of a rail line so they could ship produce and livestock.
Yet, with this growth has come a long history of cronyism connected to the nation's rail system.
We usually recall fondly the golden spike that marked the First Transcontinental Railroad across the United ...
Finish Reading →