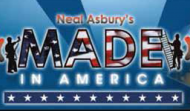 Neal Asbury began his nationally syndicated "Neal Asbury's Made in America" show on Radio America (now on 48 stations) by welcoming WKAL-AM, Utica, New York, as the newest media outlet for the show.
Made in America welcomed Hadley Heath to the show, the director of health policy and a senior policy analyst at the Independent Women's Forum, which specializes in health care, entitlements, economics, and fiscal policy.
Heath took issue with President Obama's contention that his policies were helping women in the ...
Finish Reading →