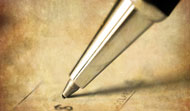 I run a successful manufacturing and export business. My success depends on our ability to accurately cost the materials and services we consume. If my estimates are wrong, I won't stay in business very long.
Our government has no such apparent obligation. Our tax dollars are being wasted on projects that are so out of sync with accepted norms that one wonders who is involved in these decisions.
I think we have to look at President Obama's advisers, who have almost no ...
Finish Reading →