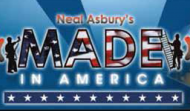 Host Neal Asbury opened his nationally syndicated "Neal Asbury's Made in America" show on Radio America by welcoming WAFS in Atlanta as the program's 71st affiliate.  Neal wants to see more attention paid to economic freedom so that America can prosper and bring jobs back to the U.S.
Co-host Dr. Rich Roffman proposing that revitalizing the U.S. manufacturing base will spur job growth and increase exports.
The first guest on Made in America was David Holt from the Consumer Energy Alliance, who ...
Finish Reading →