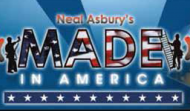 Host Neal Asbury opened his nationally syndicated "Neal Asbury's Made in America" show on Radio America (now on 71 stations) by supporting the move to stop the estate tax, despite Obama's support for continuing it.   It's gotten to the point, according to Dr. Rich Roffman, co-host, that "people can't afford to die!"
Made in America welcomed journalist Colin Hanna, who proposed in a USA Today column that the current tax code needs to be replaced.
"The answer is to do away with, ...
Finish Reading →